This page has been published by J. Mark Press
In Tribute to the late
Emilie Glenn

And her penetrating, memorable poem
remembering Delacorte's

"CLOCK OF THE ANIMALS"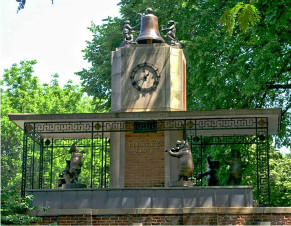 A picture of "The Clock Of The Animals" at
The Central Park Children's Zoo in New York City, NY
from the web site
http://travel.webshots.com/photo/2199071520046209414VCfRUz

Bibliography
The Central Park Zoo
by Joan Scheier - 2002 - 128 pages. A huge success, this newly named Central Park Zoo and the famous Delacorte clock, with its parade of dancing animals,


"CLOCK OF THE ANIMALS" by Emilie Glenn
Hurry Mother hurry,
The clock in the park
Is dancing the animals
To music box tunes
Better than the best cake
You ever baked,
Mother hurry,
Monkeys with mallets
Are striking the hour
On their big bell,
The bear and the hippo
Are dancing round and round,
Playing the tambourine and the horn.
The penguin and the goat and the elephant
with drum and pipes and squeeze-box,
Kangaroo with a baby in her pouch

Not so fast my darling
Never rush time away,
Turn each moment precious in your palm,
You will never be holding it again,
I remember the Town Clock
Of my Bavarian Village,
Painted people marched around it in double row,
And the bell was struck by an angel,
Or so it seemed to me.

Mama, waiting for the hour,
Looks up at my animal clock
As if it's telling her something sad,
Will I be looking up at another clock
With my little one,
My face pulled down sad
My face pulled down sad
Remembering mine.


How Poetry Lives On...
From Barbara (Morris-Fischer) Binstock

"Poetry to Treasure"

I want to share a really special experience with all of you. About 35 years ago, I took my young son to Central Park in New York City.

On the train seat, heading for home, I found a literary magazine, "The Coffee House Review." In it was a poem that I've carried with me since: "CLOCK OF THE ANIMALS" by Emilie Glenn

By coincidence, I was on this train with my son, having just taken him to see that magical "Clock of The Animals" at the Children's Zoo in Central Park, (like my father had taken me to see when I was 5 years old).
One excellent poet we published that year was Emilie Glenn, (Greenwich Village, NY). We published her poem "The Redhead in Washington Square."
I wrote to Emilie to thank her for writing it.

Because I took it upon myself to publish this tribute to Emilie, I recently heard from an old friend of hers.
Wednesday, February 18, 2009 4:41 PM
Subject: About Emilie Glen

Dear Barbara:
I enjoyed seeing Emilie Glen's poem on your webpage. I was Emilie's publisher for many years – she died at the end of 1994. I have just published Volume 1 of her collected writings, a big book of 460 pages of most of her chapbook poems. Information about the book, and the complete text of my biographical essay about

Emilie can be found at http://www.poetspress.org

I thought you might enjoy reading about Emilie's career and the impact
she had on so many young poets, some of whom (like me) made their
New York debut in her salon.
BRETT RUTHERFORD
THE POET'S PRESS

To Send Us Email Click Here