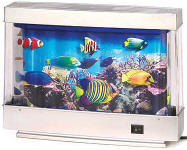 Medium Toy Fake Fish Aquarium
Relax to the sights of a tropical reef. Animated fish tank brings you all the beauty of a saltwater aquarium, but with no feeding, cleaning, or even water required! Brightly colored fishes appear to gently swim against a moving backdrop of coral; a hypnotic illusion of undersea life that provides hours of enchanting entertainment!
Measures 9"H 13"W x3"D



Moving Waterfall pictures come completely framed in a mirror-styled frame. All pictures have sound and include volume control. They creates the beautiful illusion of moving water. The soothing sounds of nature will make you feel relaxed in the comfort of your home or office. The perfect Gift for you and your family. No assembly required. Runs on standard household current, no batteries required.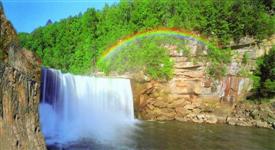 Click here for our
Moving Water Fall Pictures


About the Fake Aquarium

This beautiful artificial fish tank runs on normal household electric, and includes everything you need.

A broad variety of tropical saltwater fish and natural underwater scenery is faithfully replicated. You will enjoy watching delicate fins wave as the fish swim past. Yet the tank is waterless and runs on electric. The back-lighted film creates an illusion of water and seascape.

They help relieve anxiety in waiting rooms, wonderful in restaurants, recovery and convalescent rooms, in offices for clients, patients, or "impatients." They help educate children. If you're searching for Nemo, Yes, there's a clownfish in this tank.


Enjoy romantic lighting, and soothing, rotating tropical fish, swimming by in the rotating artificial aquarium...in your den, bedroom, or office.

What a great gift! Especially at the office, for him or her, or executives who seem to have everything.

The "water effect" is an illusion created by thick fluted Plexiglas.
Several layers of transparent film with actual photos of fish and scenery, rotate past the hidden fluorescent light.

Plug it in, turn the switch on, and gaze into its enchanting deep "underwater" pathways in the background. These incredibly realistic lighted aquariums don't require water, filters, heaters and fish food. The realistic, translucent fish keep "swimming." It does not make a simulated aquarium sound. The manufacturer recommends that you do not run it for more than 8 hours, adequately ventilated. Overheating can ruin the film layers.

It's Healthy For You . . .Discover the amazing unexpected health benefits.
See the scientific clinical facts we gleaned from Columbia Encyclopedia:
a broad range of preventative health, and healing, benefits; Such as: Naturally reduced blood pressure, heart health, weight control, reduced depression and anxiety, induce sleep, stimulate hormones and fertility.

*A great alternative to the use of medicine alone for healing...
(Click to see the amazing scientific findings of health benefits from soothing audio-visual stimulation)
*Disclaimer below



Mirror Frame Extra Large Fake Fish Tank
Fish swim in both directions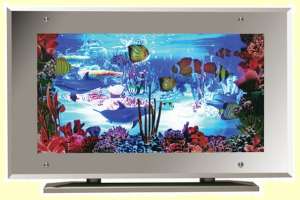 Giant Size - 20 X 13
Approx. 20 inches wide, by 13 inches high, by 3 inches deep.

Hurry, only 2 left.... and when they're gone, they're gone for good.
Temporarily

Mirrored frame fish tank acquarium New 2-way-swimming fish. Runs on house hold electric. The back-lighted film creates an illusion of scenery and fish moving through the water.
Moving Seascape has built in hangers, can be hung on a wall or sits on a removable base.
The tank contains clown fish, other tropical fish and baby dolphins





Don't be tricked by look-alike imitations . . .
We're J. Mark... No one else can sell you our merchandise. If you're not at J. Mark, you can be sure it's not
ours. We sell only first quality, genuine originals, patented and copyrighted, direct from the source, not inferior imitations.




Read our buyers' 100% happy feedback at
www.BuyerComments.com

Do not buy if you are uncertain. Always email us email us any concerns, first.
Sizes are often "approximate." Colors may vary by computer. Due to the fragility and the costly shipping of a big heavy package, and because we guarantee our merchandise to be brand new first quality, direct from the source, we cannot accept returns. We do not sell YOU returned merchandise that bounced twice across America and then on to you. If anything arrives damaged email us immediately. The post office or UPS will reimburse you promptly.