* A Yellow Lemons And Olives Fruit Decor Glass LazySusan Turntab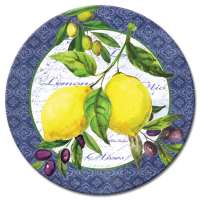 Lemons And OlivesGlass Lazy Susan -Tempered Glass Lazy Susan. These 13-inch round, glass, Lazy Susan Turntables are ideal for entertaining and can be used as a decorative table centerpiece, cake plate, or server for appetizers, and hors d'oeuvres. A precision crafted - stainless steel mechanism provides for smooth turning - 13 inch Diameter. Non-skid base protects tabletops. Makes an exciting gift! To see coordinates simply enter a product or pattern name in our SEARCH BOX.
See Pattern Coordinates

SALE!!!...BUY NOW...SAVE 20% !!!
4 CorkBacked Hardboard Table-Placemats Fruit Lemons Olives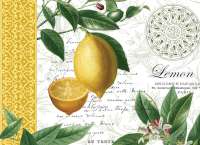 Lemons Olives - You'll add a refreshing new look, protect table or counter surface from scratches and condensation, and end dinnerware noise. Each has a wipe-clean surface on non-skid cork-backed wood, Heat resistant to 225 degrees-F., for years of durability. Each measures approx. 16"x12." Makes an exciting gift! Price is for a set of 4. To see coordinates simply enter a product or pattern name in our SEARCH BOX . Or SEE ACCESSORIES

DISCONTINUED...BUY NOW...THIS PRICE IS 20% OFF..ONLY 2 PLACEMATS LEFT
Lemons & Olives Fruit 4 Plastic Placemats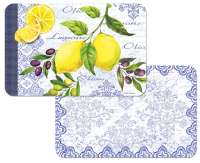 Lemons & Olives Fruit Plastic Placemat Beautify your table setting with these home fashion artist's newest reversible wipe-clean 17" x 11" vinyl plastic placemats by CounterArt. They will impart a refreshing new appeal your placesettings. Protect table surface from scratches, and condensation. End dinnerware noise. Makes an exciting gift! Set of 4. To see coordinates simply enter a product or pattern name in our SEARCH BOX.
See Accessories

SALE!!!...THIS PRICE IS 20% OFF
Lemons And Olives Fruit 4 Stone Coasters w/Holder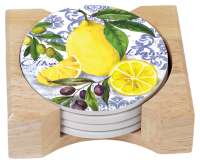 Lemons And Olives Fruit. These Sets of 4 absorbent stone coasters feature beautiful art by Counter Art that coordinates with our placemats, cutting boards and lazy susans. Crafted from a natural stoneware material that absorbs moisture and condensation.They come with wooden holders as shown. A Durable cork backing protects from water marks and scratches.They make an appreciated gift. Enter a product or pattern name in our SEARCH BOX or SEE ACCESSORIES

REDUCED! You Save 20%