* 4 Cork-Backed Hardboard Table-Placemats Wine Grape on Black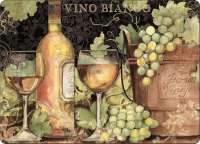 Bright Wine on Black - You'll add a refreshing new look, protect table or counter surface from scratches and condensation, and end dinnerware noise. Each has a wipe-clean surface on non-skid cork-backed wood, Heat resistant to 225 degrees-F., for years of durability. Each measures approx. 16"x12." Makes an exciting gift! Price is for a Set of 4. To see coordinates simply enter a product or pattern name in our SEARCH BOX. Or SEE ACCESSORIES

SALE!!!...BUY NOW...THIS PRICE IS 20% OFF
4 Chalkboard Wine Grape Corkback Hardboard Table-Placemats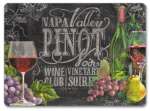 Chalkboard Wine - Wine/Grape theme - You'll add a refreshing new look, protect table or counter surface from scratches and condensation, and end dinnerware noise. Each has a wipe-clean surface on non-skid cork-backed wood, Heat resistant to 225 degrees-F., for years of durability. Each measures approx. 16"x12." Makes an exciting gift! Price is for a set of 4. To see coordinates simply enter a product or pattern name in our SEARCH BOX . Or SEE ACCESSORIES

CLEARANCE SALE!!!...BUY NOW...THIS PRICE IS 20% OFF
Two SETS OF 4 LEFT HURRY !!!
4 CorkBacked Hardboard Francesco Wine Table-Placemats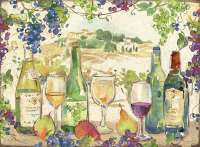 Modern Wine - You'll add an refreshing new look, protect table or counter surface from scratches and condensation, and end dinnerware noise. Each has a wipe-clean surface on non-skid cork-backed wood, Heat resistant to 225 degrees-F., for years of durability. Each measures approx. 16"x12." Gift Set of 4 Cork-back Table Mats with a high-gloss finish, packaged in an elegant taupe linen box with a cream colored Williamsburg logo on the top. The Colonial Williamsburg Foundation is printed on the back of the box, with an insert included inside each box describing the history of the design Makes an exciting gift! Price is for a set of 4. To see coordinates simply enter a product or pattern name in our SEARCH BOX

SALE!!!...BUY NOW... THIS PRICE IS 20% OFF
4 CorkBacked Hardboard Table-Placemats Wine/Grape -Wine Not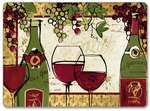 Wine/Grape - Wine Not - You'll add a refreshing new look, protect table or counter surface from scratches and condensation, and end dinnerware noise. Each has a wipe-clean surface on non-skid cork-backed wood, Heat resistant to 225 degrees-F., for years of durability. Each measures approx. 16"x12." Makes an exciting gift! Price is for a set of 4. To see coordinates simply enter a product or pattern name in our SEARCH BOX

Cork-back, Non-skid, Hardboard - set of 4 - REDUCED !!! - Save 25%